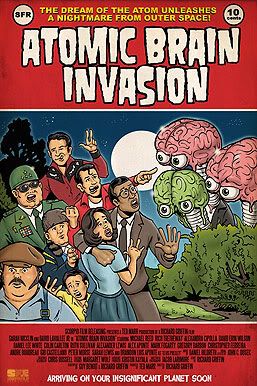 Come see 'Atomic Brain Invasion'

'Atomic Brain Invasion' is an epic sci-fi
adventure film
. It's set in the 1950s and features
alien invasions
and rock 'n' roll! The film is directed by the one and only Richard Griffin - the iconic filmmaker behind such cult classic movies as 'Nun of That' and 'Beyond the Dunwich Horror.'
Before the screening on September 10th, I will conduct a forbidden conjuration of unspeakable necromancy! I shall bring the King of Rock 'n' Roll BACK - LIVE and IN PERSON! You read it here! Now come see it happen.
It's all going down at the
Orpheum
in Foxboro, MA on September 10th. Screenings will be at 7:00 PM and 9:00 PM. 'Atomic Brain Invasion' will be shown again on
September 11th
. However, the summoning of The King will only happen on the 10th so don't miss it!
Advanced ticket sales here:
http://www.scorpiofilmreleasing.net/
More news on October events and season 8 updates coming soon...
Current Location:

Haunted New England

Current Mood:

gloomy

Current Music:

Jailhouse Rock by Elvis Presley