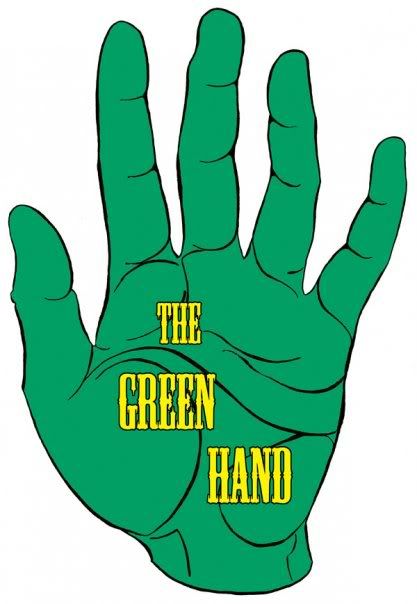 When the crisp Autumn wind rattles my attic windows, I like nothing more than to light a candle and curl up by the cauldron with an ancient grimoire or tale of terror. Outside of a black cat, a book is a witch's best friend. Inside of a black cat, it's too dark to read.

The printed word can whisk us away into worlds of wonder, and The Green Hand Bookshop in Portland, Maine is a place of many wonders indeed. I recently spoke with The Green Hand's proprietor, Michelle Souliere.

Michelle, could you tell us what inspired you to open a book store?

I have long been a booklover, and tried my hand for many years at bookscouting for local dealers and selling on my own via eBay and half.com. At one point I tried to avoid getting involved to the point of having a shop -- it seemed like more of a burden than I was ready for. However, over the last few years, it became apparent that was all I really wanted to do. I enjoyed working at the Portland Public Library but the large machinery of the institution seemed to trod upon so much of the vitality in the staff as it went about its work. I found myself thinking more and more in terms of "Wouldn't it be nice if..." I set tentative goals for sometime in the future, say 5 or 10 years down the road. Then the economy freaked out, and I moved to another job to save myself from debt, only to have that yanked out from under me as the university rearranged its departments due to budget cuts and other changes in focus. It became apparent that maybe I'd be better off taking a chance on my own now, since even the old tried-and-true jobs seemed to be increasingly unstable, and the money I'd saved in a 401(a) account during a 15-year stint as an office worker certainly wasn't multiplying on its own.


When did you first open for business? How has the response been from the community?

I first opened for business on First Friday, November 6, 2009. The response from the community has been terrific. A lot of the local neighbors seemed very relieved to have a legitimate business with the appearance of real stability opening up on this corner. There has also been a lot of curiosity as to what is going on here.


As an enthusiast of dark literature and forgotten lore, I must say I am pleased to hear that you have a "killer horror section." Could you tell us a little bit about your literary interests?

*laugh* My interests are very broad. I tend to have a smorgasbord of in-process books nearby, and dip into various volumes depending on my mood. However, I tend to have at least one good supernatural, horror, or other fantastic fiction book around, as this is my favorite genre. The best of the bunch? My top ones include M.R. James, Arthur Machen, H.P. Lovecraft, Manly Wade Wellman, Stephen King, John Gordon, Dan Simmons, Mark LaFlamme, and more. I'm always adding to the list. I also love mysteries, and favorites in that field include Arthur Conan Doyle, Agatha Christie, Dorothy Sayers, John Dunning, and John Connolly. However, there are dark times of the year when one must move to lighter fare or risk forever losing oneself in the shadows, and on those occasions I get a kick out of Stella Gibbons' "Cold Comfort Farm," Tove Jansson's Moomintroll books, Mark Helprin, John Crowley, and more. Magical realism is another favorite genre (Helprin and Crowley certainly have works in that field), and of course Ray Bradbury remains one of my icons, how could I ever forget the first time I read "Dandelion Wine" or "Something Wicked This Way Comes"?

This is not to say that I veer away from non-fiction. I read heavily in fringe non-fiction (cryptozoology, paranormal, occult, mythology, folklore, and the like), and historic non-fiction, especially New England related. I also have a penchant for travelogues and biographies, and enjoy science and math related reading, such as "The Radioactive Boy Scout" and "The Mystery of the Aleph."

For an idea of my staple books, you can stroll through my account on LibraryThing, which gives an excellent slice of 168 favorite parts of my library:
http://www.librarything.com/catalog/msouliere

You have listed many of my favorites as well Michelle! Now, could you explain the origin of store's name: "the green hand?"

A few years ago, when I left my office job, I felt like it was time that I try to put my art degree to work, and one of my goals was to create a branding umbrella to encompass all my creative pursuits. One of the themes/logos that came up was the green hand. The two things I find myself drawn to over and over again are eyes and hands. The original green hand has an eye in the center of its palm. The art track fizzled, though I maintain a sporadic studio practice and do not intend to give up making my work, ever. I stumbled across the green hand when I was casting about for a name and logo for the shop. Somehow, it just insinuated itself into place as the only option!! So far it has been ideal. It suggests something mysterious, which in turn generates curiosity (I hope!), and at the same time the green alludes to growth (five times the power of a mere green thumb!). On a more literary level, it pertains to the pulp magazine imagery of a green hand reaching out to some hapless victim, or an alien hand, perhaps... alluring dread!


What can visitors expect when they cross the threshold to The Green Hand Bookshop?

They can expect a wide variety of subject matter in the shop's inventory, which I take great pains to keep well-organized and carefully curated. The shop, very atypically for a used bookshop (at least from what I can tell from people's reactions), is spacious and bright. I won't spoil the surprise of the first thing you see coming through the door! But there are old-fashioned streetlamps, and a bench for perching on, and some old wooden chairs, and thousands of delicious books to browse through for as long as you like. :)


You share your storefront space with a fascinating museum. Could you talk a little about that?

The International Cryptozoology Museum shares space with the Green Hand in a wonderfully symbiotic relationship. To enter the museum, you approach the gate at the back of the bookshop, and therein lie many marvelous things, some naturally occurring, some man-made. Loren Coleman, the museum's owner and a well-known cryptozoologist in his own right, is there to give you your tour personally more often than not, which is handy if you have some of his books that you'd like him to sign while you're visiting. Fans of Bigfoot, the yeti, the Mothman, chupacabras, and many other mysterious and rare creatures will be in seventh heaven when they walk through the door.

You are also the creator of the fantastic Strange Maine blog. How did that come about?

I found it baffling that no one had formed a single site online that collected resources about Maine's intriguing elements. Add to that my unfortunate propensity for doing things instead of waiting for someone else to do them, and.... well you get the picture.


Your husband Tristan also runs a marvelous business right across the street from The Green Hand. What can visitors expect to find there?

The Fun Box Monster Emporium is a throwback to the toy emporiums of old and at the same time practically a museum of homage to the pop culture of the 1980s. Good stuff! Not only does he carry a ridiculous variety of action figures and other collectibles of the '80s, he also has vintage video games up the wazoo, not to mention the actual working pinball and arcade machines he keeps the shop popping with. In other words, it's fun.


Any exciting future plans or upcoming events at The Green Hand?

We're psyched to have Dan Blakeslee, a.k.a. Doctor Gasp, playing deliriously eerie Halloween tunes here on the night of October 13th, and Lynne Cullen telling wicked spooky stories the night before Halloween. We are also happy to be hosting meetings of the Speakeasy Society, which is made up of folks who are keen on the Jazz Age world of silent films and their stars. Who knows what we'll do next?!


Thank you for taking the time to answer my questions Michelle.

The Green Hand Bookshop is located at:

661 Congress Street
Portland, ME 04101

Green Hand Website

Facebook Page

Strange Maine Blog

Current Location:

Haunted New England

Current Mood:

melancholy

Current Music:

The Loch Ness Monster by Thurl Ravenscroft