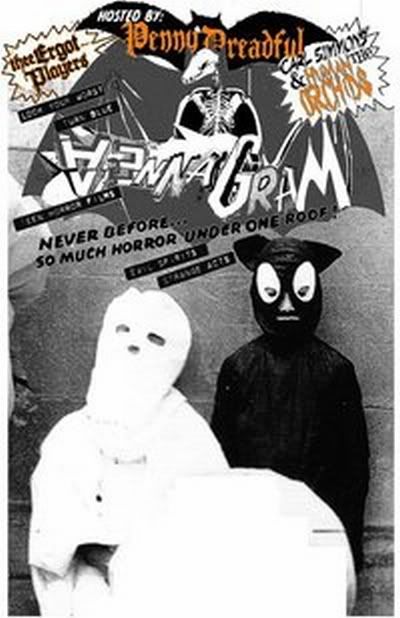 LOOK YOUR WORST! TURN BLUE!
THE [VIENNAGRAM:] RETURNS to the Belly of the Whale!
hosted by TV's 'Shilling Shockers': PENNY DREADFUL!
Puppet panic with THE ERGOT PLAYERS
Manic melodies of CARL SIMMONS&the Human Orchids
don't forget DJ-INVISIBLE-MAN
!!!!!!!!!!!PLUS!!!!!!!!!!!
!!!!!!!!!!!!!!!!!
EVIL SPIRITS! STRANGE ACTS! DANCE MACABRE!
MONSTER MOVIES! TONS OF BLOOD! NO SURVIVORS!
NOTE:[GHOULS OF ALL AGES] Due to limited capacity, the first 20 mortals to arrive shall receive a Mystery Trick-or-Treat bag assembled by the vile A.V. VIENNA himself! Not to mention tons of new [VIENNAGRAM:] Merchandise from IRRATIONAL SOLUTIONS inc.
[END VIENNAGRAM:]
Current Mood:

gloomy
We'll be at the
Rock & Shock
convention in Worcester, Massachusetts- Oct. 15, 16 17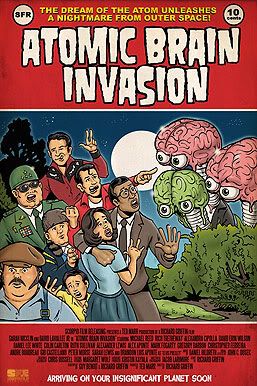 Come see 'Atomic Brain Invasion'

'Atomic Brain Invasion' is an epic sci-fi
adventure film
. It's set in the 1950s and features
alien invasions
and rock 'n' roll! The film is directed by the one and only Richard Griffin - the iconic filmmaker behind such cult classic movies as 'Nun of That' and 'Beyond the Dunwich Horror.'
Before the screening on September 10th, I will conduct a forbidden conjuration of unspeakable necromancy! I shall bring the King of Rock 'n' Roll BACK - LIVE and IN PERSON! You read it here! Now come see it happen.
It's all going down at the
Orpheum
in Foxboro, MA on September 10th. Screenings will be at 7:00 PM and 9:00 PM. 'Atomic Brain Invasion' will be shown again on
September 11th
. However, the summoning of The King will only happen on the 10th so don't miss it!
Advanced ticket sales here:
http://www.scorpiofilmreleasing.net/
More news on October events and season 8 updates coming soon...
Current Location:

Haunted New England

Current Mood:

gloomy

Current Music:

Jailhouse Rock by Elvis Presley
Monday July, 26 - Geno's rock club in Portland, Maine - 625 Congress Street

You won't want to miss this special screening of 'The Lost Skeleton Returns Again' featuring an appearance by Bob Deveau from the film. Garou and I will also be haunting the place. Check out the flier below for more information.

Current Location:

Haunted New England

Current Mood:

gloomy

Current Music:

the from The Lost Skeleton of Cadavra
Congratulations to my friend, the legendary Count Gore DeVol on winning the 2009 Rondo Hatton Classic Horror Award for Favorite Horror Host of 2009! This well-deserved Rondo win for the Count dovetails perfectly with the upcoming release of 'Every Other Day Is Halloween' On DVD. The film, by Mr. CW Prather, explores the history of Washington DC's iconic television personality and entertainer Dick Dyszel - alter ego of Count Gore, Captain 20 and Bozo the Clown. April 20th has officially been declared Count Gore DeVol day! Read on to find out more about this celebration!
Meanwhile, be sure to check out these sites:
www.countgore.com
www.rondoaward.com
www.everyotherdayishalloween.com
www.thespookymovie.com
--
COUNT GORE DE VOL DAY is a celebration of all things Count Gore, winner of the 2009 Rondo Award for Favorite Horror Host! THERE IS NO NEED TO BE IN THE WASHINGTON AREA TO PARTICIPATE!
But...if you are...!
April 20, 2010 - EVERY OTHER DAY IS HALLOWEEN is finally available to own on DVD! Count Gore will have copies for sale at Video Vault in Old Town Alexandria from 6:00 - 9:00 p.m.!
Copies will also be available at CD Cellar and Smash! in the DC Metro area, but you don't have to be in DC, Maryland or Virginia to celebrate - you can preorder the DVD right now and guarentee that you too will get one of the limited edition Channel 20 Club Cards!
www.everyotherdayishalloween.com.
Current Location:

Haunted New England

Current Mood:

happy

Current Music:

Count Gore DeVol song by Bobo Golem

Come to the HorrorHound Weekend Vampira Tribute this March 26, 27, 28 in Indianapolis, Indiana! Dozens of Horror Hosts from all over the world are gathering to pay tribute to the original and iconic TV horror movie hostess - Vampira! This gathering is being organized by Dark Carnival and it's sure to be a landmark event featuring contests, panels, a live Spook Show and all manner of surreal shenanigans.

HorrorHound weekend will feature many guests. Check out www.horrorhoundweekend.com and www.vampiratribute.com for more information.

Current Location:

New England

Current Mood:

excited

Current Music:

Music for Strings, Percussion and Celesta by Bela Bartok
Here's the interview I did with the fellas at Scare-Radio on Sun. Dec. 13. In it, I reveal how black magic and Universal studios led to my becoming a horror hostess. I discuss inspirations for the show, and even give away some top-secret information about next year's Season 8. I come in about 15 minutes into the show. Happy Howlidays!
Oh Come All Ye Dreadful!
Just in time for the Holidays, 'Penny Dreadful's Shilling Shockers' Season 7 is now available. The box set comes with seven discs, each featuring the hosting segments as well as a feature-length film of terror. In this season we add to the list of strange New England locales we've showcased when we visit the grave of infamous New England vampire, Mercy Brown. In addition to the classic horror films, some episodes include original animation and short movies by independent animators and filmmakers.
Each set is $35.00 plus shipping. Shipping is free for Fan Club members (media mail).
If you've been curious about the show and haven't checked it out yet, I encourage you to take a peek at this new season.
For more information and to order go to
www.shillingshockers.com
Happy Holidays!
Current Location:

Haunted New England

Current Mood:

satisfied

Current Music:

Monsters' Holiday by Bobby "Boris" Pickett
I just received this very sad news. Paul Naschy has passed away. For those who might not know, Paul Naschy was an iconic Spanish horror actor, best known for playing the feral werewolf Waldemar Daninsky in several films. Thanks for letting me know Joey.
Arrow in the Head News: RIP Paul Naschy
Posted using
ShareThis
I do hope those in the area can make it to the benefit for St. Jude's Children's Research Hospital at Firehouse 13 at 41 Central St. in Providence, RI this Wednesday night Nov. 25. It's sure to be a fun evening. Garou and I will be hosting. We'll present the short film 'The Devil's Bow' followed by the silent horror classic 'The Cabinet of Dr. Caligari' with a LIVE soundtrack performed by members of
The Viennagram -
http://www.myspace.com/theviennagram
California Smile -
www.myspace.com/californiasmile1
Eat Cloud -
www.myspace.com/eatcloud
Doors open at 8PM and cover is $7.00. All proceeds will go to St. Jude's Hospital.
http://firehouse13.org/
Happy Fangsgiving!
Current Location:

Haunted New England

Current Mood:

awake

Current Music:

The Viennagram - 'Send Me a Dear'