Garou is hex-cited about this one and I think you will be too...


Join Penny Dreadful and Garou as well as the legendary Sarasvati, the Goddess Coyle and other spirits of the night for Sanctuary's "Seance" at The Dark Lady in Providence RI - Sunday night Sept. 6. DJ Delicti will be spinning goth & deathrock tunes from the tomb.
www.myspace.com/sanctuary_ri
Garou and I will be at the MyMummy Collectibles Show on Sunday, August 23 in South Attleboro, MA. If you're in the neighborhood come by and visit our eerie table. It's at the South Attleboro, Mass. Knights of Columbus Hall. 304 Highland Ave. (Rt. 123 ) Comic, Toy, Nonsport Card, and Collectable Show. , Hrs. 10am-3pm., Adm. $3.00,under 16 free ( with paid adult ).
Current Location:

New England

Current Mood:

cold

Current Music:

All Hopped Up on Goofballs album by Kitty & the Kowalskis
Poster Art by the great George "E-gor" Chastain
Filmmaker CW Prather has produced a new documentary about legendary TV personality Dick Dyszel, known to legions of Washington DC-area fans as Count Gore DeVol, Captain 20 and Bozo the Clown. The film is called 'Every Other Day Is Halloween' and features loads of interviews and rare footage. 'Every Other Day Is Halloween' is currently touring the film festival circuit and will be screened at the San Deigo Comic-Con this week.
Here's a link to the film's website --
http://everyotherdayishalloween.wordpress.com/
Current Music:

Creature Feature Theme

Season 7 starts airing in September...




Current Location:

Haunted New England

Current Mood:

rejuvenated

Current Music:

Suspiria theme by Goblin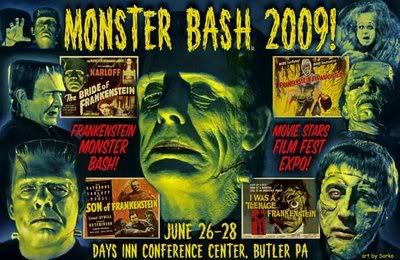 Imps,
We'll be at this year's Monster Bash classic horror convention. It's happening this weekend June 26-28.
http://www.monsterbashnews.com/bash.html

Come by and say "EEEEEEEEK!!!"



London After Midnight starred the legendary Lon Chaney in ghastly vampire makeup and was directed by Tod Browning (Dracula, Freaks). This silent motion picture is often cited by terror enthusiasts as the lost film they'd most like to see turn up one day. While I would certainly relish the opportunity to watch this film (I missed it on its initial release – was busy with some necromancy), it is not my first choice for the lost film I'd most like to watch. That distinction would have to go to the 1920 German chiller called Der Januskopf aka The Head of Janus. The shadowy forces of night and might surely convened to create this now-lost film. Here's a breakdown of this picture's horror pedigree:
Der Januskopf is an adaptation of Robert Louis Stevenson's classic novella of the macabre - The Strange Case of Dr. Jekyll and Mr. Hyde. Instead of using a potion to transform into the Hyde character, the Doctor here is transformed by the cursed bust of the Roman god Janus.
This lost feature was directed by the filmmaker F.W. Murneau. Murnau is best known as the director behind the nightmarish German Expressionist classic, Nosferatu (1922). Murnau also directed an eerie and memorable version of Faust (1926).
Der Januskopf starred Conrad Veidt. Veidt, a charismatic actor of great renown, is perhaps best known to horror devotees as the gaunt somnambulist Cesare in the nightmarish classic The Cabinet of Dr. Caligari (1919), and as the hideously grinning Gwynplaine in The Man Who Laughs (1928).
The Head of Janus' cinematographer was one Karl Freund. Freund was the cinematographer for such classic films as: Dracula (1931), The Golem (1920), Murders in the Rue Morgue (1932), and Metropolis (1927). He also directed a number of notable films. These include: The Mummy (1932) and Mad Love (1935).
Hans Janowitz wrote the screenplay for Der Januskopf. Earlier, he had collaborated with Carl Mayer on the script for 1919's The Cabinet of Dr. Caligari.
The supporting role of Veidt's butler in Der Januskopf was portrayed by none other than fright film icon Bela Lugosi. Lugosi's credits in macabre cinema are too numerous to list here, but include Dracula (1931), Son of Frankenstein (1939), The Wolf Man (1941), Frankenstein Meets the Wolf Man (1943), White Zombie(1932), and The Black Cat (1934).

Surely Murnau's Der Januskopf aka The Head of Janus must have been a silent sight to behold. Hopefully this film, as well as the long-lost London After Midnight, will turn up in some dusty film vault one of these days.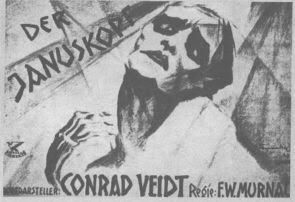 Current Location:

Haunted New England

Current Mood:

curious

Current Music:

Jekyll and Hyde by Jim Burgett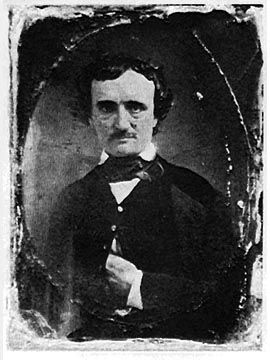 Edgar Allan Poe had a love/hate relationship with his native city of Boston. He praised the city's pumpkin pies, but derided their bad hotels and "not so good" poetry. Poe was born in Boston in 1809, left the city to live with relatives when he was a child, and later returned for a time to serve in the military. This period of military service ostensibly inspired his tale The Cask of Amontillado. Poe's first book of poems was entitled "Tamerlane and Other Poems" by 'a Bostonian.'
Alas, Boston's literary elite didn't see eye to eye with the master of the macabre. For example, a Boston critic referred to one of Poe's public readings as "rich in intense twaddle." Poe, in turn, held a special rancor for Boston's literary establishment (particularly Longfellow) claiming they were "incapable of recognizing a decent poem if it fell onto their precious Common." Poe's delightfully snarky scorn for the city of his birth is evidenced by his frequent referrals to Boston as "Frogpondium," in reference to the frog pond at Boston Common.
Interestingly, near the end of his life, Poe expressed a desire to be buried in Boston (he's buried in Baltimore, which is the city he's most identified with). Boston held on to its grudge however. Up until now, the only local acknowledgement of Poe's Bostonian birth was a small plaque near Boylston Street. This has finally changed however, as Boston seemingly let go of its grudge against the Melancholy One several weeks ago and dedicated the new "Poe Square" in the city.
For this, I doff my hat to you, Frogpondium.
Read the article here:
http://www.boston.com/news/local/breaking_news/2009/04/square_named_fo.html?camp=localsearch:on:twit:metro
Some other interesting articles about the rocky relationship between Edgar Allan Poe and Boston:
http://www.boston.com/news/local/articles/2007/01/28/poe/?page=1
http://www.boston.com/bostonglobe/ideas/brainiac/2007/04/_a_globe_reader.html
Current Location:

Haunted New England

Current Mood:

melancholy

Current Music:

Berlioz - Symphonie Fantastique
'Tis I, Penny Dreadful the witch - hostess of New England's hex-cellent TV horror movie show
'Shilling Shockers' - www.shillingshockers.com. Rather than bother with my usual methods of communication - spirit boards, necromancy, seances - I've decided to start this page so that I may share with you my hex-periences in the realm of the unknown. In other words, I'll be bringing you occasional thoughts on terror films, books, TV, music, supernatural history and that sort of thing. Stay tombed for more...


Current Mood:

melancholy